YOUR INSTITUTE IN UZBEKISTAN
Our students come from all over the world to enjoy a quality tertiaryeducation and like them, you will learn how to challenge the statusquo, engage on a global level, and graduate with the skills andconfidence to make positive change to your life and to the livesof those around you.
TASHKENT INSTITUTE OF FINANCE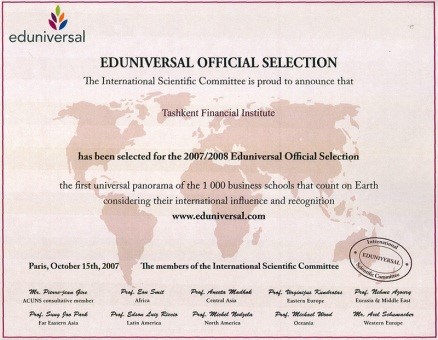 Tashkent Institute of Finance (hereafter called TIF) was established in accordance with the Decree of the Presidentof the Republic of Uzbekistan dated May 13, 1991 No. DP-207 on the basis of the faculties Finance-Credit andAccounting-Economy of Tashkent Institute of National Economy. The TIF offers DSc, PhD, master and bachelor degreeprograms. Since 1991 Tashkent Institute of Finance gained respect all over the world for the high quality of its teachingand research, but never more than today. Numerous indicators of teaching, student satisfaction and research excellenceplace Tashkent Institute of Finance in the highest echelon of Uzbekistan's universities and one where both research andteaching are valued equally. Tashkent Institute of Finance is the core higher education institution in Finance and Banking programs in Uzbekistan.
In 2008 Tashkent Institute of Finance had been noted by the NominationCommittee of the European Business Assembly with International Award"European Quality" for reputation and education system. In the same yearTashkent Institute of Finance was chosen as one of the 1000 best businessschools around the world by International Scientific Committee from EDUNIVERSAL