ACCA - launched under the Tashkent Financial Institute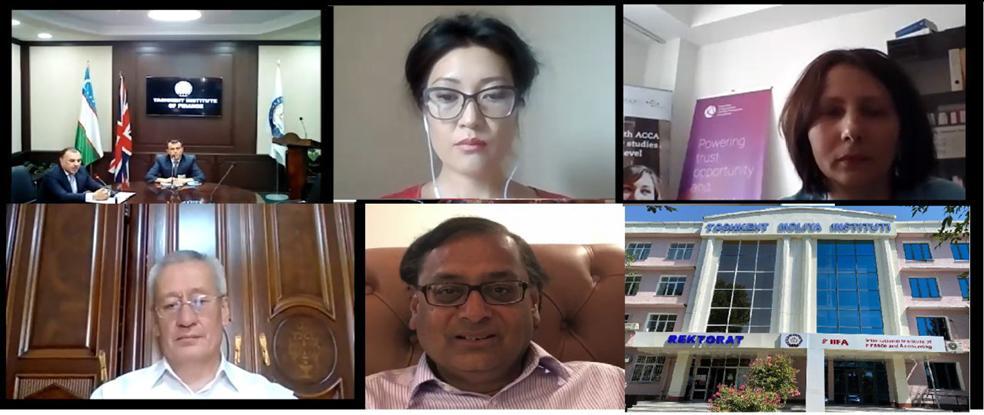 The "International institute of finance and accounting" Training center accredited by Association of Chartered Certified Accountant (ACCA) launched under the Tashkent Financial Institute
Today the Tashkent Financial Institute is a one of the main higher education institutions that trains specialists in the field of "Accounting and Auditing". In order to ensure the implementation of the Resolution of the President of the Republic of Uzbekistan dated February 24, 2020 No PP-4611 "On additional measures for the transition to international financial reporting standards" the "International Institute of Finance and Accounting" Innovative Training Center has been established in cooperation with ACCA). The main purpose of the Center is to organize the educational process on the basis of the ACCA international program, to train, retrain and improve the skills of practitioners and ensure that they have an international accounting certificate, to conduct research on the systematic implementation of international standards in accounting and auditing, create recommendations, organize training seminars, scientific-practical conferences, round tables with the participation of young scientists, experts. In addition, students who study at the Center under the internationally recognized program will have the opportunity to get a bachelor's degree in accounting from Oxford Brooks University, a UK-based institution.
The event dedicated to the formal opening of the International Institute of Finance and Accounting Innovative Training Center was organized online on July 23, 2020 via the ZOOM software. The session was held with the participation of representatives of the International Association of Certified Public Accountants (ACCA) and ATC International, as well as representatives of Ukraine, Kazakhstan and other Central Asian countries, officials of the Ministry of Finance, the Chamber of Auditors of Uzbekistan and professors and teachers of the Tashkent Financial Institute. It has been noted by the participants of the event that the establishment of the Center will be a great opportunity for teachers of accounting and auditing in higher education institutions, practicing accountants, and researchers to acquire knowledge and skills in accordance with international financial reporting standards, improve their skills and obtain the International Certificate on accounting.
At the end of the event, the participants pointed out the progress in the development of the Center and agreed to organize an international scientific and practical conference on the priorities of the transition to international financial reporting standards at the Tashkent Financial Institute by the end of this year.
17:22 / 2020-07-24